Sarah Winkelmann in on a mission: become the youngest German woman to cross Greenland on skis
Tuesday evening, Jacobs University alumna Sarah Winkelmann (IPH 2016), shared the exciting and awe-inspiring details about her upcoming arctic expedition and goal to write polar history: as the youngest German woman, she will cross Greenland on skis in an approximately 30-day journey.
Sarah, a passionate entrepreneur and outdoor enthusiast, explained in her presentation what it takes to prepare for such a journey: the physical endurance and mental stamina required to cross various terrains while pulling all equipment and food in a 75kg sledge (whew!), how to stay warm, how to respond if you meet up with a polar bear (yikes!), what one must eat, and how you can maintain privacy while going to the toilet.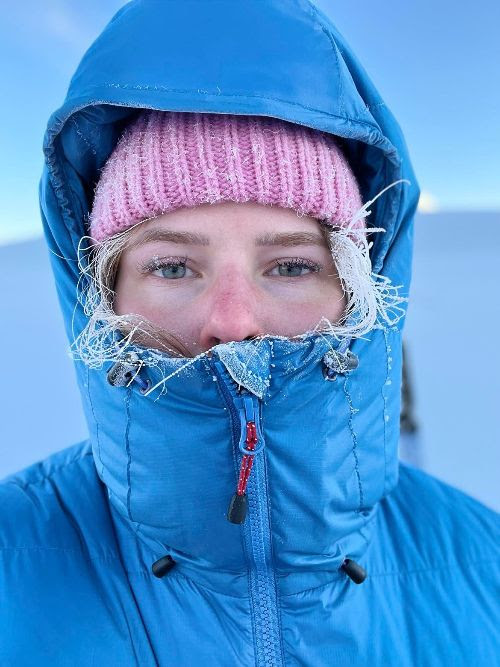 Missed the presentation? You can watch it here:
SARAH'S PRESENTATION
Passcode: jzP*0!Jv
Sarah could use your help to fund her trip!
But don't just take it from us, read what Sarah said herself:

I aim to become the youngest German woman to cross Greenland – with skis and tent.

Why is that special? Because I am 15 years younger than the average explorer of which only 1 in 5 are female. And because it'll be one of the few expeditions which aim to be as environmentally friendly as possible*

What I can offer as an arctic explorer in my 20's: exceptional physical endurance, fast learning capability, psychological resilience and the courage to organise a "one-woman-show" (I do all of the training and logistics planning myself -> 30-40 hours per week). Many of these skills I have learnt during my time at Jacobs/Constructor.

What I do not have in my 20's: money. The expedition costs at least 30,000€ which is difficult to come up with despite working two jobs. If you want to be part of writing female polar history and support my expedition, I would be beyond grateful.

On the crowdfunding camapaign, you can donate as you please: small sums, large sums, with your name, anonymously, buy a reward (such as joining a ski trip in Norway) or not buy a reward.

In any case: Thank you for having my back!

*It should be a matter of course but no trash (food packaging, broken equipment, tampons, etc.) will be left in Greenland. Everything will be carried with me in the sledge until I arrive back in civilisation. This expedition is one of the few which are 100% vegetarian and apart from flying to Greenland (which is the only option), all trainings and preparation trips are reached by bicycle or train.


Sarah Winkelmann
All donations directly fund the project AND, very exciting news – – Toyota will match your generous financial assistance Euro-to-Euro.
This project is ALL OR NOTHING, which means that the money will only be paid out when at least €5,500 has been raised by January 29, 2023. All supporters will receive their money back if the financial goal is not achieved.
Let's not let that happen! Remember, Toyota will match all donations. All levels are appreciated!
The expedition in planned for spring 2023. Stay tuned for the date of the post-expedition presentation where we can hear stories of her arduous journey and celebrate her success in marking history as a female-explorer.
Best of luck Sarah, we believe in you!