TLDR; Homecoming happened! Live and in color and once more even in person! Things happened! It was fun!
This year, after a 2 year (unwanted) hiatus from being live rather than online, Homecoming was back to being in person! Alumni were invited to come home to Jacobs to celebrate not only the classes of 2007, 2012, and 2017, but also those who had online homecoming for their reunions. In the end around 80 alumni decided to return to Bremen for the weekend. The homecoming weekend this year took place from the 23th until the 25th of September.
The following is an experience post from Alena di Primio (UG 2016) with inserted quotes from alumni who attended homecoming.
"The slightly rainy weather we all know from way back when greeted me when I emerged from the station. Just the other day it had been sunny, and every now and then the sun still managed to break through and warm me up. Exiting Bremen HBF a tall building blocked the view I had known. Other than that, not too much had changed."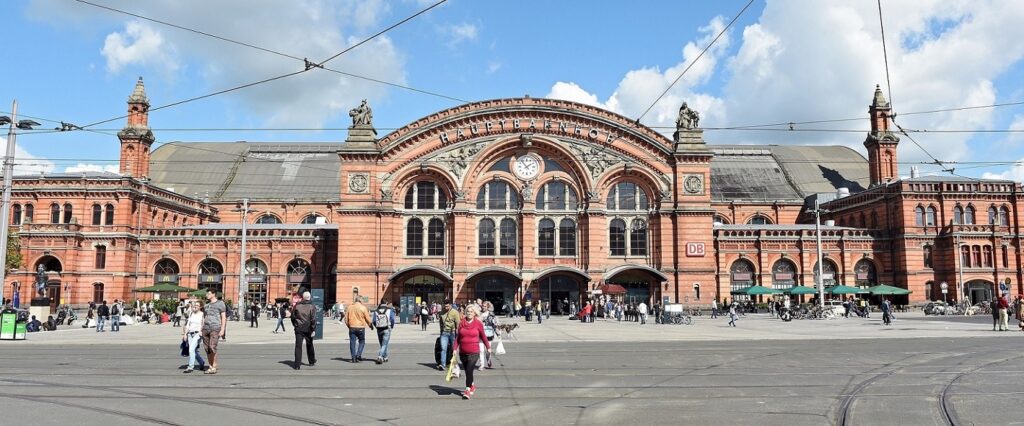 Arriving in Vegesack after a detour via Burg due to the train not going through Schönebeck to Vegesack, there too some changes were visible. On the way, I had met up with Barry (UG2016) and together we explored the new Vegesack city center. The shopping center from my days is gone and only the back part remains. The Dönerbude (the one everyone escaped to on Meatless Monadays) however, is still there with its ever consistent flow of customers. We arrived in the newly renovated Strandlust Hotel and was soon greeted with the familiar face of Raika (UG 2017). Only 10 min in we already met old friends. After a brief "OOOOH! HEEEEEEY! How are you?!!!" we each went off to meet up with other people. Barry and I met up with my former Resident Associate (Foad; RA from Mercator) and we went for a coffee, one of which was soon after sadly spilled. We had missed the open lectures, but did manage to get some ice cream at the College Ice Breaker. In the MCO it was a warm welcome and quick tour around the familiar rooms. There was a new air hockey table (already broken of course), a designated party room for which you needed keys, and a massive upgrade in the movie room, which we were super excited about as we had started movie nights back in 2014 (or was it 2015?). While we explored the campus and our old college, the Carreer symposium was going on in the IRC. Lots of students had passed us by in order to get there, and Philipp Herzberg and Sebastian Blümert gave talks and took over moderation. My friends and I returned to the IRC in time to join the major networking event, which was a bit chaotic, but lots of fun. Between catching up with friends, answering students questions, and hunting for food, there was a lot of chatter and reminiscing going on.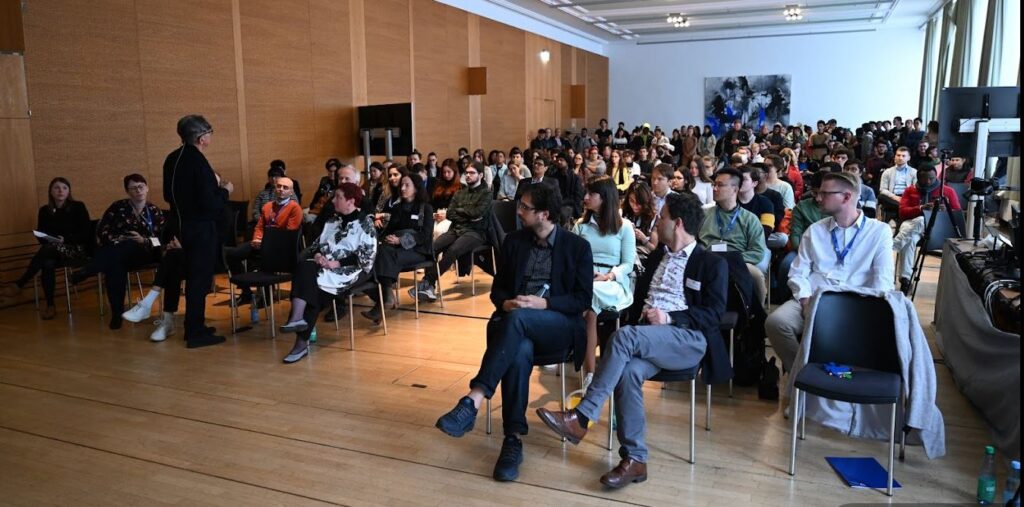 Eventually it was time for the alumni and Professors to move to The Other Side for the Alumni Lounge. Lively conversations and reunions continued throughout the evening. New connections were made, old ones were rekindled, some might have been destroyed over a round of good old (sticky) Fußball. One of the things I loved that weekend, was how easy it was to just pick up right where you had left off. For me 6 years had passed since the last time I saw some of their faces and still you were just right back where you had left off. An impromptu night campus tour was organized on the spot and in the rain, and eventually around 23:30 things started to calm down and people started heading home.
The next morning started with a rather controversial All Hands meeting, followed by a shortened General Assembly. The new leadership of the university – President Prof. Fabio Pammolli, Majority Shareholder and Schaffhausen Institute of Technology Genossenschaft (SIT) founder Dr. Serg Bell, and co-chairman Dr. Philipp Rösler – gave welcome speeches as updates. One of these updates was the name change which Jacobs will undergo in the near future. With the Jacobs Foundation pulling their financial support, the name change is a measure that most of us understood and accepted. What we didn't accept was the new name that is proposed. "Constructor" was not a fan favorite and caused a lot of discussion. Dr. Serg Bell who had come up with and introduced the name gave lots of reasons as to why it was good and thought through, but also managed in the question session to insult the alumni to such a degree that half of the alumni attending stood up and left the room. That was not how we had planned it. Then again, I don't think it was how anyone had planned it.
Feelings were reconciled over food from the Food Truck Fest which included burgers and Currywurst (both omnivoric and herbivoric options were satisfied), a crepe stand, and of course drinks. Even with a light drizzle we were determined to have fun above all else and reconnect with our fellow alumni.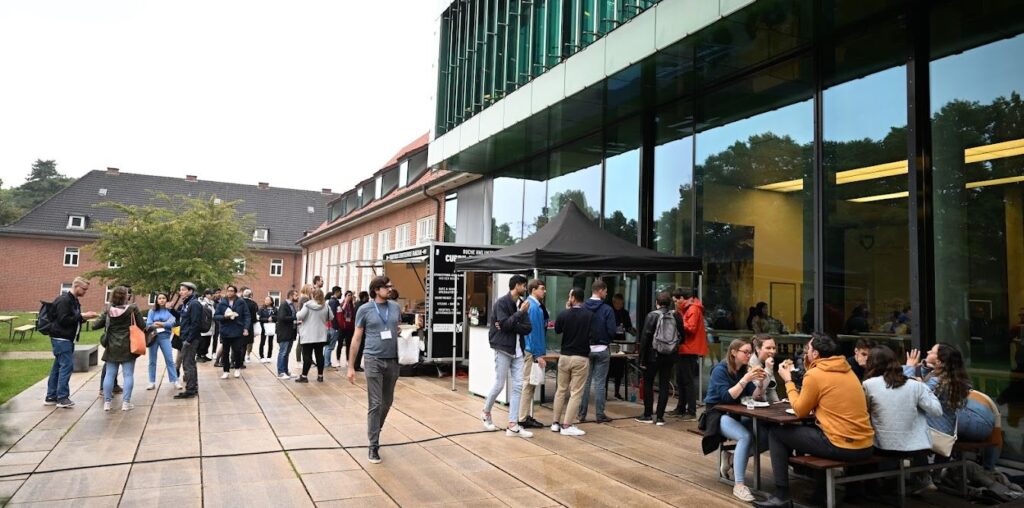 Once everyone had filled their stomach it was time to take the picture and then walk around campus to see the Jacobs Olympix happen. Well we sure were in for a surprise. It now included a lot of bouncy castels and – horrifyingly – INTRA-COLLEGE TEAMWORK! Cheerleading I had been informed the previous day, had gotten too competitive and people got angry with each other, so it and many other sports as we knew them have been replaced. The students had a great time it seemed, but for us it was a bit of a shock and an adjustment period was needed. Thankfully we had about 3 hours of free time to manage both that, and getting changed for the gala. And let me tell you about the Gala…. Holy Moly! What a night!
Long, elegant tables were set up in the IRC, with white linen and floral decor. A long buffet was set up with all kinds of amazing sounding and smelling treats. A bar had been placed at the far end near the elevator with different options of wine, beer, and even hard liquor for mix drinks.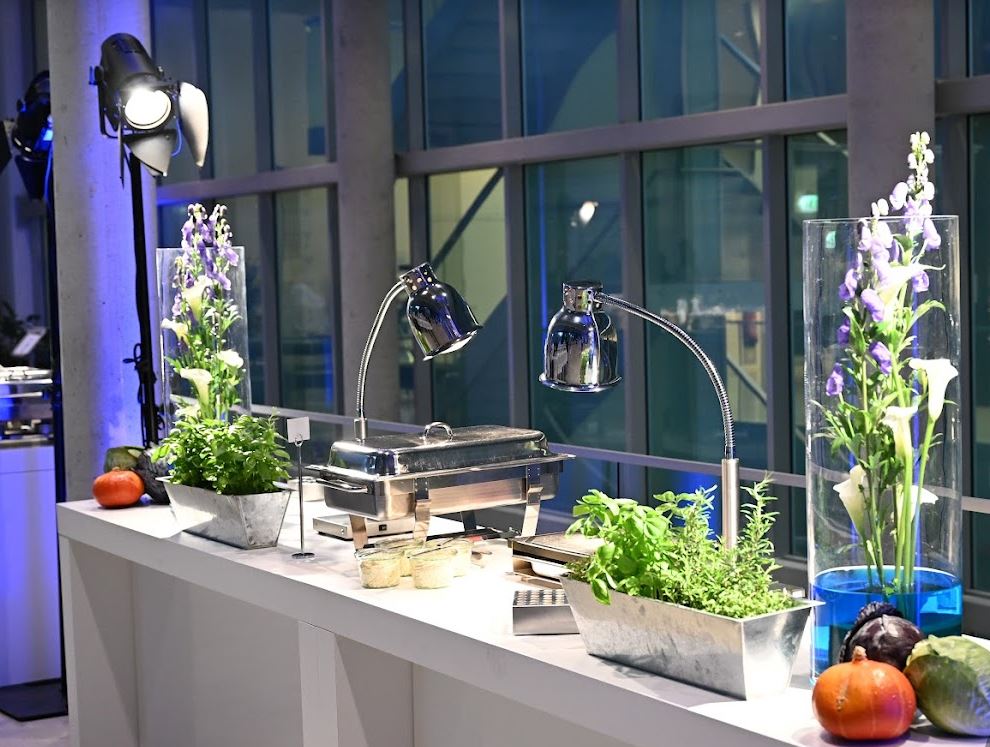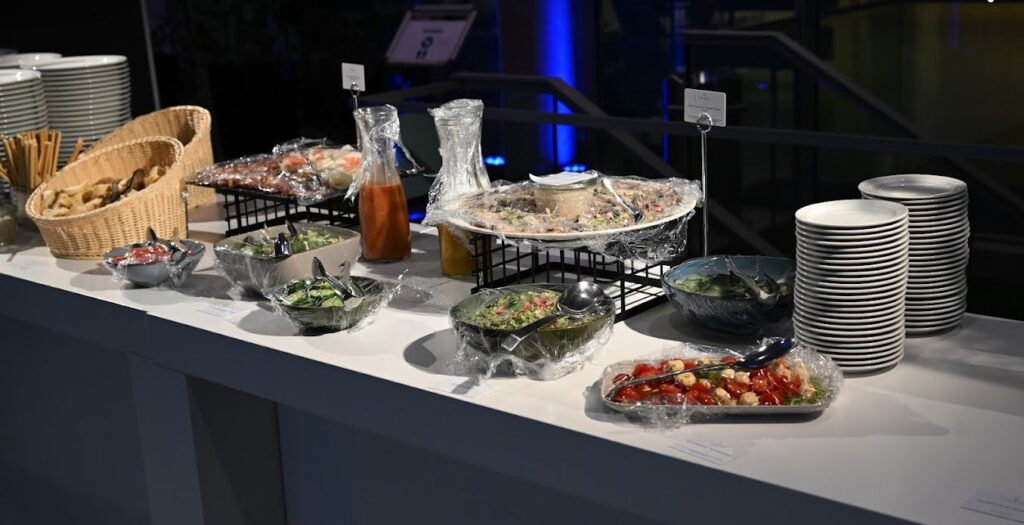 Once everyone had had time to say hello to friends (yet again) and grab some drinks at the Champagne Reception, the Gala began. Our very capable moderators Suna Turhan and Henrik Maedler guided us through the whole event and introduced the first act of the night: Julia Klotz. Boy that girl can sing… Makes sense though as she is nowadays known as a brilliant opera singer. She started off with a drinking song, clinking glasses as she went along, and continued with a second song which made you remember the people who couldn't come and be right there with you.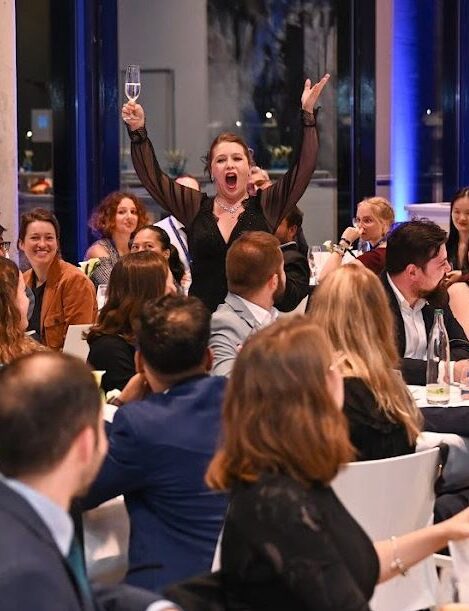 Later performances included a song accompanied by guitar by one of the Alumni scholarship recipients and a dance by Raika Schäfer and Akshun Abhimayu. The food was lovely, drinks (including gin tonics) went across the bar in quick succession, and everyone enjoyed the evening. The main cause for the gala of course was to fundraise money for the future and current Alumni Scholarship recipients. There was artwork, a book, and other things up for auction and in the end a respectable amount was collected. Later there was music, more drinks, some dancing, and even more drinks.
The resulting hangovers could be nursed and potentially cured the next morning over hangover brunch, to which alumni could also invite their guest families for small family reunions. And then that was it. Heading home with lots of news, new friends, bonbons, and a renewed spirit.